Top Beers To Drink in Summer 2022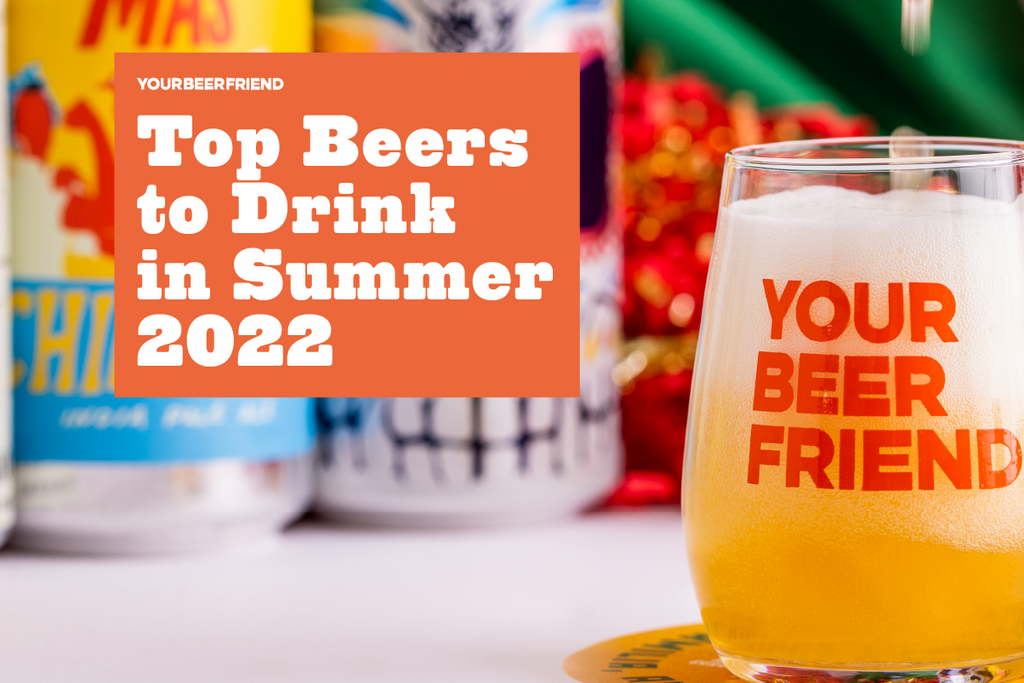 The Six Beers I'll be Drinking This Summer
We're in full blown summer mode over here at Your Beer Friend, and what that means to us is that we're going to be drinking a whole lot of cold, crisp, and refreshing beers. I'm making a list of the beers that I'll be drinking this summer. All these beers will be great for drinking poolside, throwing into a cooler for a weekend camping trip, for late summer porch hangout, or really any summertime activity where beer is involved.

1. Pina Gose
This is the quintessential pool side day drinking party beer. Pina Gose is from To Øl Brewing in Svinninge, Denmark. It's a Pina Colada mixed with a gose … I don't know if a beer could scream, "drink me by the pool!" any louder. The beer is salty, it's sour, it's got some pineapple and coconut mixed in, and all of that goodness is packaged up gorgeous can that helps amplify that summertime party vibe it gives off. Availability is pretty limited, so it'll be harder to find so if you're not able to find it then be on the lookout for any other To Øl goses or Berliner Weisses that you can get your hands on, they're all great. Can't find To Øl beer near you? Don't worry I have another gose in the list that's way more widely available and also makes for a great pool side drink.

2. Vieja
A 6 pack of this and you'll be set for any summer activity. It works beachside, at a BBQ, or outside doing some lawn work. Really anything you've got planned, this beer has you covered. Vieja is an amber lager from Cerveceria Agua Mala in Ensanada, Mexico. I freak out over this beer because it's amazing how much they can pack into a 4.7% ABV beer, it has such a low ABV but it's still super flavorful which is always impressive when a brewery can accomplish that. The beer is super clean and on the lower end of the bitterness scale. While drinking you should be looking for light caramel and maybe a hint of citrus. It's great by itself, but if you really want to do it right, grab some tacos and crack into this beer.

3. Baseball Lager
What's better than a hot dog and a beer on a hot summer day? Well a hot dog and a beer while at a baseball game. Baseball Lager is an American lager from Highland Park Brewing in Los Angeles, California. Highland Park Brewing is right down the street from Dodger stadium, so it really only makes sense for Highland Park Brewing to do a beer that matches up with what's going on locally in their area. This beer tastes exactly how you would think a beer named "Baseball Lager" would taste like. It's easy, it's simple, it's beer and it's darn good. This beer isn't widely distributed, but if you live next to any baseball stadium, you should be able to snag something very similar to it.

4. Sea Quencher
Here's the other gose that I mentioned earlier! Sea Quencher is a black lime gose from Dog Fish Head out of Milton, Delaware. A quick word on gose pronunciation because it's a tricky one. The correct pronunciation is goes-uh, but frankly… it's a word from 1400s Germany so I wouldn't get to worried about the pronunciation.
There are a few things I prefer about this gose compared to the Pina Gose (don't get me wrong, I love 'em both) mentioned earlier. First off is can size… I know it sounds funny but I much prefer the 12oz can to the 16oz can! I prefer smaller cans for two main reason, temperature and variety.
What I mean by temperature is really more like freshness of the beer. The problem with a 16oz can is that when I start to get to the end of the can, the beer is warm, flat, and ultimately just not as good as a fresh cracked can. In a 12oz can you don't get these problems because you finish the beer faster and then you're on to the next one.
Variety means that I can mix it up! I tend to get bored of a beer right around the 12oz mark, so with the 12oz can I just simply move onto a different beer after that, with a 16oz can I still have 4oz left to drink before I can try something different. Variety is the spice of life, and that holds true while drinking beer too.
Another major selling point for this beer is that it is widely available! The Pina Gose, while great, is hard to find! So, if you're on your way to a party and need to grab a summertime beer, good luck finding Pina Gose. You'll have a much easier time finding Sea Quencher.

5. Dry Hop'd Zwickl 
I know… another lager on the list? Dry Hop'd Zwickel is a collab Zwicklebier from Deschutes (Bend, Oregon) and Bitburger (Bitburg, Germany). While making this list I was trying to think of what hoppy beer to include, do I pick Sierra Nevada Pale Ale as the tried-and-true ultimate dad beer, All Day Session IPA from Founders to really pack some hoppyness into a lower ABV beer, Day Job Pale Ale from Three Weavers which is my go-to camping beer? I couldn't decide. My thoughts wandered to what I would be drinking tonight and this beer popped into my mind. Zwicklebier is a german style lager that is unfiltered and unpasteurized (meaning you're leaving all the brewing 'gunk' in, which adds flavor, complexity, mouthfeel, etc. into the beer). What makes this beer stand out is that it's pretty heavily dry-hopped (for the style), turning it into this insanely aromatic beer. On the nose, you're going to be getting big fruit notes, some pine, and citrus. It mellows out when you drink it, leaving you with some of that hoppyness, a good amount of sweetness, and baked bread. This beer works for people who are big hop heads and for people who generally shy away at hops. It has some bitterness, but it's so well balanced by the sweetness that it's more of a refreshing bitterness. Grab some pizza or a bratwurst with this beer.
6. Lagerithm
Potentially the most controversial pick on the list. Lagerithm is a black lager (if you can't tell I'm drinking an absurd amount of lagers this summer) from Bottle Logic Brewing in Anaheim, California. Lagerithm is a crisp, crushable, dark lager with subtle notes of roasted coffee, chocolate, and nuttiness. The best way to think about this beer is to try and frame it like you're drinking a black iced coffee. Lagerithm is what you'd catch me drinking as my second beer at a BBQ (the first being the beer the host hands me after exclaiming, "whatever you're having!"). This beer isn't nationally distributed so it will be a little harder to find. Another beer in this category that is more widely available is Köstritzer - Schwarzbier. It's another dark lager, but this time from Germany! I would consider it to be THE definitive Schwarzbier. Widely available and delicious.


So there you have it, these are the beers that I'm going to be drinking this summer. The list is focused on low abv beers that are refreshing, easy drinking, and still full of flavor. Not all of these beers will be available where you live, but the purpose is to give you an idea of beer styles that will work for your summertime activities. Lagers (light, amber, and dark!), gose, Berlinner Weisse, and dry hopped beers! Enjoy.
---